The Commercial Painters Dayton, Ohio Trusts
Are you looking for a team of painters that completes commercial and residential painting? Call HLE Coatings for the best commercial painters in Dayton, Ohio.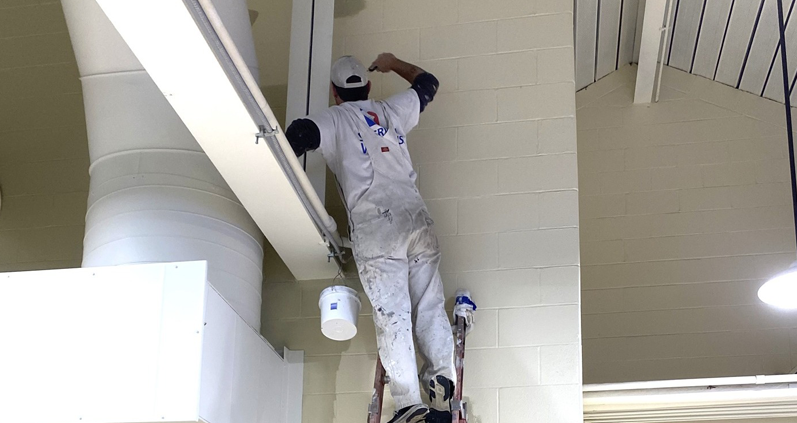 Every commercial space deserves high-end paint and finishes that take it to the next level. If you live near Dayton, OH, and you're looking for professional painting services, you should opt for a team with years of experience and a 100% satisfaction guarantee. HLE Coatings offers Dayton, OH, residents a skilled team of commercial painters in Dayton, OH, so you can completely refresh your commercial space with a few coats of paint.
Let your vision for your home come to life with residential house painting services.
Commercial Painting and More in Dayton, OH
HLE Coatings offers Dayton, OH, residents premier commercial painting services. Our team ensures efficiency with every project so you can get back to work in your space with little interruption.
Painting your commercial space is an affordable way to alter the look of the interior and exterior of your business without having to complete major renovations.
Interior commercial painting is one service focused on altering the inside of your commercial building. These painting projects may include but are not limited to, painting large-scale areas, bathrooms, individual offices, and more.
Meanwhile, exterior commercial painting is perfect for changing the look outside of your building. However, different exterior finishes require specific painting needs. Therefore, choosing qualified professionals to complete exterior paint jobs is essential.
Benefits of a Fresh Coat of Paint from Professional Dayton, OH, Painters
Interior and exterior paint jobs work wonders for revamping the curb appeal of any building. However, choosing professional painting services for your business comes with many other advantages.
These benefits include enhanced curb appeal, better return on investment, the potential to bring in new customers, and making space speak more to the feeling of your business's mission. In addition, a fresh coat of paint does wonders for refreshing an area and making it feel new, which can also boost your worker's productivity. Get in contact with us today if you need commercial painters in Dayton, Ohio.
Looking for residential services too? Give your home a boost with a professional exterior house painting service.
Choose Expert Painters Company in Dayton, OH
Instead of tackling commercial painting alone, hire commercial painters in Dayton, OH, to complete your painting projects. Professional painters know how to tackle every painting need, so you can sit back and relax while the experts complete the job. HLE Coatings takes care of all prep work, paint, and clean-up, making the process easier for the customers.
Choosing HLE Coatings for your next commercial paint job offers many advantages. HLE Coatings promises workmanship warranties, free estimates, and respectful and knowledgeable painters who know how to do their job. Our team of commercial painters in Dayton, OH, believes in going beyond customer expectations to provide the best service in the area.
Call the team at HLE Coatings today at (937) 919-8250 for a free estimate. Let our experienced team of commercial painters in Dayton, Ohio, start your commercial painting transformation now.